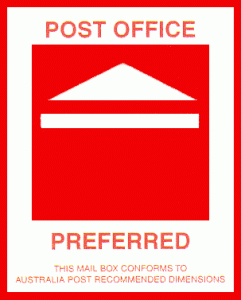 We understand that these days all types and sizes of mail can be delivered to your letterbox. When installing new, or upgrading existing letterboxes, you should consider that Australia Post prefers A4 document sized mailboxes.
We recommend that when you design your letterbox configuration, you should consider the area within the confines of the property along with Australia Post location and installation guidelines. We can guide you with the most suitable location for your property, but most importantly, the mail delivery point should be no more than 4 metres from the front boundary of your property. Any variation to the 4 metre regulation must be approved by Australia Post. Further details are available on Australia Post Regulations PDF.
Letterbox mail slots should be no lower than 600mm from the finished floor level (FFL), with the highest mail slot no higher than 1600mm from the finished floor level.
The street number should be visible on or near the mailbox.
By adhering to these regulations, and combined with our knowledge and expertise, you can be confident you will be getting a well-designed and secure letterbox for your building.